When the date of each event comes closer, detailed information will be posted in Kiyosato Topics.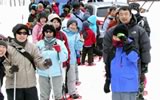 Why don't you join "Kanjiki (snowshoe) Walking" tour of walking 4 km (round-trip) to the fantastic "Kaminokoike Pond" in winter with the nature guide? Kaminokoike Pond covered with the white snow welcomes you with a marvelous view which is quite different from that in the summer. After the tour, please enjoy a nice lunch at 'Kiyorl' and relax your tired body at a hot spring in the town.
It is a tree-planting activity under the theme of creating the "green corridor" through the town with green trees. It's co-hosted by Kiyosato-Cho and the Committee of Town Planning with Flower, Green, and Communication. Last year, about 140 Ezo Yamazakura (Sargent cherry) trees were planted by about 100 people from Kiyosato Rotary Club, the female department liaison council, and individuals.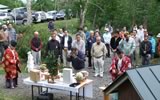 The last Sunday of June
Though snowed in during winter, Mt. Shari opens on the last Sunday in June. At 6:30 AM, prayers for safety are offered at Seigakuso, the trailhead, and many people climb to its top with a nature guide. From the summit, you can have a nice view of Lake Mashuoko and the Sea of Okhotsk, and even Kunashirijima Island on a fine day.
Mt. Shari Climbing Guide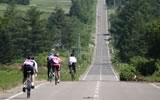 The first Sunday of July
It is the highest-class cycling event that you can experience only in Kiyosato-Cho on the vast land of Hokkaido! Enjoy the huge landscape of Hokkaido with spreading mountains and fields. Have a fantastic ride on the wide roads with small traffic in the great location with a view of Mt. Shari and enjoy our delicious supplement food using the local products and ingredients!
Granfondo KIYOSATO official site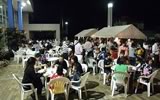 Not only children but also grown-ups enjoy the short summer of Kiyosato-Cho. It is a bustling festival with many stalls.
Not only children but also grown-ups enjoy the short summer of Kiyosato-Cho. Portable shrines parade around the town. When there are not enough people to carry the shrine, a tractor pulls the dolly which carries a portable shrine on it.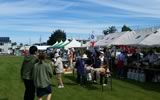 The first Sunday of September
It is one of the autumn traditions of Kiyosato-Cho. It starts with "Potato Dance Parade" on the night before. On the day of the festival, you can enjoy many attractions such as singing shows performed on the stage, various products of Kiyosato-Cho, "Hokkaido Kiyosato" (Potato Shochu brewed in the town), and other delicious prepared food. Have a pleasant day of autumn in Kiyosato-Cho!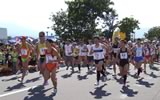 Kiyosato-Cho has many good roads for people who want to enjoy running in the rural scenery. Mt. Shari Road Race, held in September every year, offers various courses for entry, such as the Half Marathon and the 1 km run by the teams of parents and children.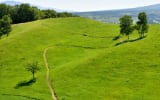 Enjoy the foods and the flavors of autumn! Many shops serve their local food at the event.